Dining

Choose from a variety of dining options.
Starbucks
Enjoy our full-service Starbucks at the start of your Tour, located in the Tour Welcome Center, from 8:30 am to 5:00 pm.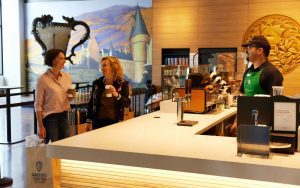 Central Perk Café
Visit the working replica of TV's favorite coffee shop, located in Stage 48: Script to Screen.
Sip on a cup of joe and grab a bite to eat from the place where your best sitcom friends once hung out. Central Perk offers a variety of sandwiches, salads, pizza, hot and cold sandwiches, plus a variety of bakery goods. Don't forget a branded bag of Central Perk coffee.